Photo - Mari Kane
Optimized for I.E.



Top Stories (4-29)
Ralph Nader's Take!
Call for Plaintiffs!
Update- McCaffrey's Position
DOJ to C. Thielen:
On McCaffrey's Position:
McCaffrey's Latest Directive:
Dave Frankel's Letter to Legislators



Recent Victory
Success!
DEA Drops Demand on Hemp Co!
DEA Follows Law
KENEX Comment



News and Info
The Evidence
Seed Seizure Issue
Can.Sen Statement
Can. Embassy
Demands Hempseed
Release(10/23)



Sample Letters



Legal Contacts



Discussion Area
Guest Book!
Links
Search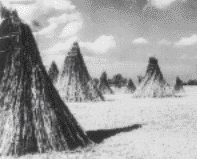 Support!

Visitors
Under US federal law, sterilized hemp seed, hemp seed oil and hemp seed cake are legal products
--------------------------------------------
Despite this indisputable fact and 60 years of legal importation, the DEA instructed US Customs to seize a hempseed shipment from Canada. After outrage was expressed from business and political spheres, the DEA recalled their embargo and on Dec. 7th Guidelines were issued that upheld the right of continued importation of sterilized seed with up to .3% THC (Tetrahydrocannabinol) without a DEA license.

NOW, ONDCP Drug Czar Barry McCaffrey has issued a memorandum ordering US Customs to seize any hemp product that contains ANY amount of THC, dated January 5th, while they review the issue.

On March 5th McCaffrey sent a "directive" to customs and the DEA to stop the importation of any hemp products that may contain trace amounts of THC, a controlled substance. Janet Reno responded and has confirmed that hemp products are legal for import under current definitions. ONDCP Chief McCaffrey is not satisfied and he is trying to circulate amendments to the Controlled Substances Act to further restrict hemp.
ACTION NEEDED NOW:
Write to President Clinton and VP Al Gore; Donnie Marshall, DEA Administrator; Janet Reno, Atty. General, and Sec. of Agriculture Dan Glickman.
Send copies to your state reps.
Explain what your business does, how important hemp seed/products are, and then explain you understand Barry McCaffrey is circulating among the Clinton Administration three proposed amendments to the Controlled Substances Act to include industrial hemp, when it is currently excluded. And then explain why these amendments should not be presented to Congress, and why DEA draft regulations permitting farmers to grow industrial hemp should be published in the Federal Register for comment and subsequent adoption. Click here for Contact Info for these Officials

Within this site you will find:
1- Info about issues threatening the industry
2- Who is affected
3- What you can do
4- News articles printed in the press and other media.
5- Sample letters for manufacturers & retailers affected, or concerned citizens.
The Hemp Industries Association presents this website for the education of the public and all businesses concerned. We hope to see this industry regulated by the Agriculture Dept. in the USA, as industrial hemp is a valuable commodity for commerce around the world.

Hemp Business Tools:
www.cannabismerchantaccounts.com


CURRENT CHALLENGES:
ONDCP - McCaffrey vs Industrial Hemp
ATF - Labeling of Hemp Wine and Beer
Hemp Cheese- Banned in Canada



US Code Title 21 Section 802 (16):
"The term ''marihuana'' means all parts of the plant Cannabis sativa L., whether growing or not; the seeds thereof; the resin extracted from any part of such plant; and every compound, manufacture, salt, derivative, mixture, or preparation of such plant, its seeds or resin.
Such term does not include the mature stalks of such plant, fiber produced from such stalks, oil or cake made from the seeds of such plant, any other compound, manufacture, salt, derivative, mixture, or preparation of such mature stalks (except the resin extracted therefrom), fiber, oil, or cake, or the sterilized seed of such plant which is incapable of germination." (Emphasis Ours)
HIA - Hemp Industries Association
PO Box 1080, Occidental, CA 95465
Tel: 707 874 3648 Fax: 707 874 1104
Email: info@thehia.org
http://thehia.org & http://hempstores.com

Updated by Chris & Mark Tucci